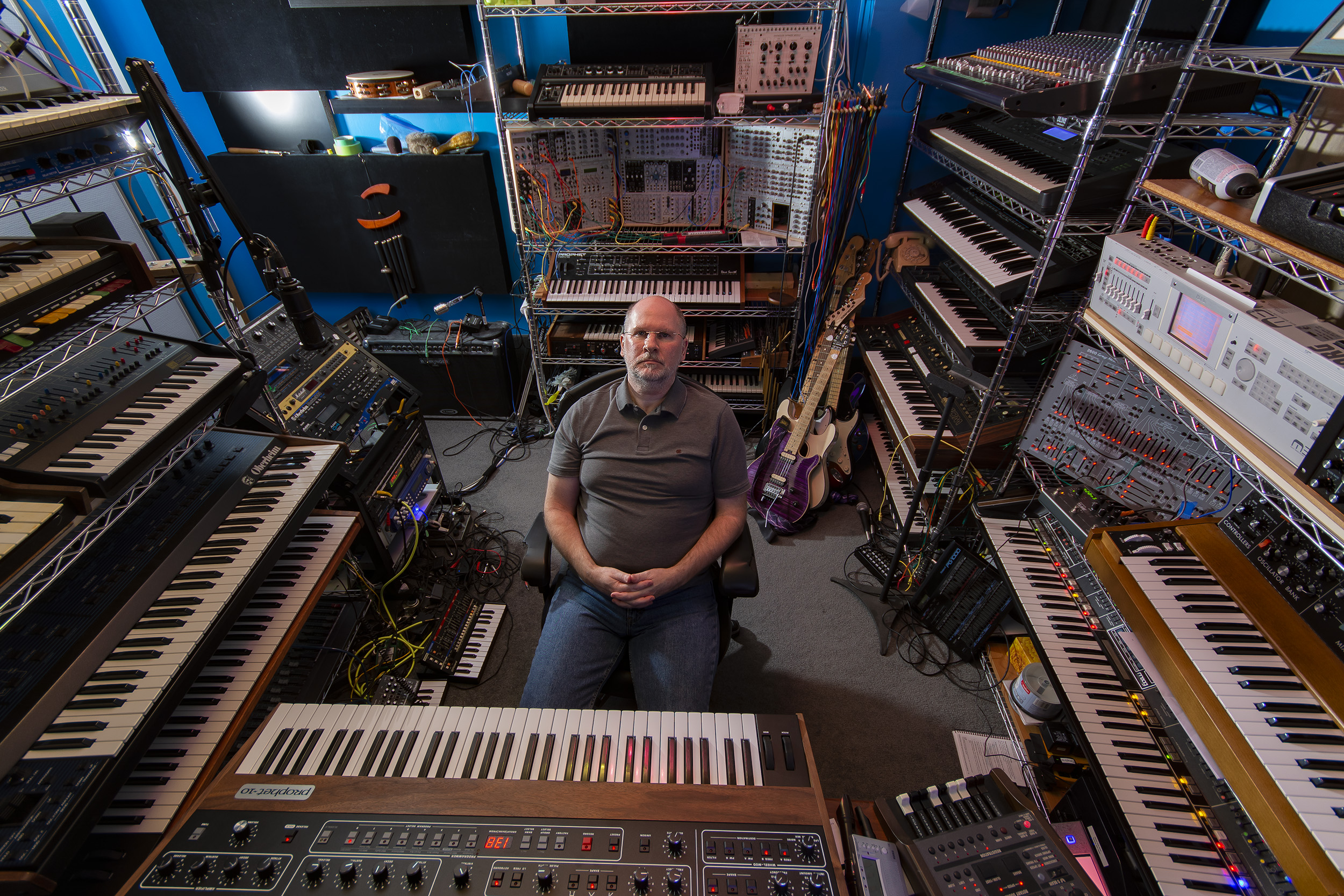 Hi! This is my simple little website. And here's where I create music, my little studio I like to call Cloud City
I posted some of my music to Soundcloud. Have a listen! Soundcloud.
Here's a quick intro and description of "Scott From Canada"
I create mostly synthesizer based music (although sometimes it's rock guitar, depending on my mood!) that has been inspired by people like Tomita, Larry Fast (Synergy), Vangelis, Tangerine Dream and a lot of other people and bands I've been listening to for the last 40 years or so.
I currently live in Toronto, Ontario, Canada, where I was born, but I lived in Barrie Ontario, for about 20 years before moving back here. I attended both Eastview and Innisdale secondary schools (although not at the same time!).
I use a wide array of equipment but have recently been drawn back to my original passion, analog synthesizers. Unfortunately, the originals have become very expensive these days and since electronic parts don't age very well they also require a lot of maintenance so I don't have a lot of them.
I have found a set of digital (virtual analog) synths that imitate analogs extremely well. The Creamware synths, Minimax, Prodyssey and Pro12 are excellent as is the Use Audio Plugiator which creates the exact same sounds in a smaller, much less costly box. I hope they continue to create more plugins for the Plugiator since it is by far the most cost-effective way of adding that analog sound to your setup!
There are a few actual analog synths I use though. Currently I use:
Arp Axxe
Arp Quartet
Behringer Neutron
Behringer 2600 Grey Meanie
Chroma Polaris
Creamware Minimax
Creamware Pro12
Doepfer Modular Synthesizer (Basis System 2 + many more modules)
Dave Smith Prophet 12
Dave Smith Instruments Mopho
Dave Smith Instruments Tetra
Elka Rhapsody 490 Strings
Korg MS-20mini and SQ-1
Korg Minikorg 700
Korg Microkorg
Korg Monotron (and Delay and Duo)
Kurzweil K2000
Oberheim Matrix 1000
Oberheim Matrix 6
Oberheim SEM-Pro
Oberheim OB-8
Roland SH-1000
Roland SH-2
Roland VK-8m
Roland D-50
Roland Super JV-1080  with Vocal board (Best choir sounds I've heard!)
Roland Gaia SH-01 (another fantastic virtual analog)
Roland MGS64
Moog Etherwave Theremin
Moog Polymoog
Moog Slim Phatty
Moog Minimoog Voyager (rack mount version)
Moog Minimoog – 2017 reissue with Muse
Sequential Circuits Six-Trak
Sequential Circuits Prophet 600
Sequential Circuits Prophet 10
Yamaha CS-10
Yamaha CS-15
Yamaha CS-20m
Yamaha CS-40m
Yamaha SK-20
Yamaha DX-7IID
There's also a bunch of outboard gear like
t.c. electronic M-One
Alesis Quadraverb
Lexicon mpx-100
Electro-Harmonix v .256 vocoder
Electro-Harmonix Bad Stone phase shifter
Electro-Harmonix Polyphase
Electro-Harmonix Deluxe Electric Mistress
Electro-Harmonix Flanger Hoax
Boss RE-20 Space Echo
Strymon Timeline
MXR Phase 100
MXR Flanger
and a few other things here and there.
If you're looking for my pictures they are all on flickr right here: https://www.flickr.com/photos/scotteh